2019-2020英语周报高二上册课标第6期答案
发布日期:2019-12-05
上传者:B30***C7
投诉
英语周报2019-2020高二上册课标第6期答案
  下面是2019-2020英语周报高二上册课标第6期答案
  更多 英语周报请微信公众号搜索"答案易对网"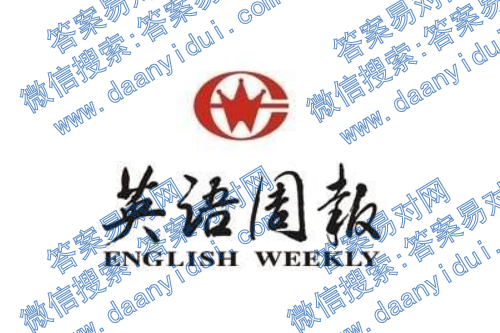 Book5 Unit3参考答案
  1-5 ABCCA
  6-10 BCBAB
  11-15 CBBCC
  16-20 ABBAB
  21-25 ABACB
  26-30 ADCCA
  31-35 BACBD
  36-40 ACEGF
  41-45 BCBAD
  46-50 CACBA 51-55 BDDCD56-60 DABAC
  61. is controlled.62. designed
  63. to achieve
  64:the
  65. with
  66.animals
  67. reducing
  68.it
  69. wonderful
  70. choice
  短文改错
  71.was especial nervous.
  especial→especially
  72.... didn' t know that
  that→what
  73. .what was something ..
  what→which
  74. .so we put
  去掉so
  75. . in desk.
  desk→ desks
  76. When I enter
  enter→entered
  77. . invited us to
  us→me
  78 . no more.
  no→any
  79. I was surprising.
  surprising→surprised
  80. how small the schoolschool后加was
  书面表达
  One possible versiong
  think clothes in the future will be different from
  what they are today
  Clothes in the future will be made of special
  materials which will be light and environment-friendly.
  As for special functions, first, they will prevent bacteria
  from entering the human body, which will rapidly
  decrease the risks of humaus' suffering from diseases.
  Moreover, such clothes will also be fireproof, allowing
  people to walk-in- fire without getting burnt.Just
  imagine future firefighters wearing them to carry out
  rescues in fires.
  I believe such future clothes will bringgreat
  benefits to people and gain wide popularity
  选做题参考答案
  1-4 ACBA
  5-8.BBCC
如果遇到其他问题,请添加售后服务
QQ群:993749835