2019-2020英语周报高二上册课标第10期答案
发布日期:2019-12-07
上传者:296***16
投诉
英语周报2019-2020高二上册课标第10期答案
  下面是2019-2020英语周报高二上册课标第10期答案
  更多 英语周报请微信公众号搜索"答案易对网"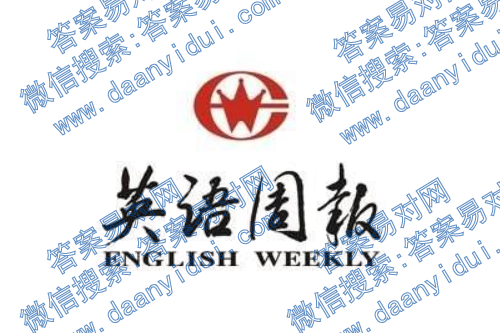 上期练习题参考答案
  第2版
  READING TASKS
  Pre-reading activities
  Task I.略 Task II.略
  Task III.略
  While-reading activities
  Task. 1. warm2. water 3, touch
  Task II. 1. mild 2. liquids 3 electrics
  Task III
  watery:surface→Second degree burns
  black and white and charred→Third degree burns.
  rough, red and swollen→Second degree burns
  Task IV. 1:clothing 2. third 3. wet
  4. bandage5. higher
  Post-reading activities
  Task. 1-4 DCBA
  Task II.略
  Task II.略
  第3版
  CHECKING CORNER
  Part 1
  I.1. organs
  2 poisoning/ polluting
  3. cupboard 4. symptoms:5. poured 6. complex
  7:barrier
  8. damp
  9. bled 10:choked
  11. liquid 12. ankle(s)
  13. temporary
  14. skin(s)15. scissors
  II. 1. swollen 2. injuries 3 unbearable 4. mildly
  III. 1. in 2. from 3. on/upon 4. to 5:to 6.as
  IV. 1. a variety of all kinds of reasons
  2. over and over again
  3:It is vital to be honest
  4. knocked over a glass of wine
  5. her dress caught fire
  Part 2
  I.1. sat near the window and Mike the dbor.
  2. My father was a lover of sports and he still is now.
  3.She said shed call me but she hasn' t
  4.. Heard this song?
  5. -What you said hurt her deeply.
  I' m sorry I didn't mean to.
  6.-Who gave you that CD?
  Dadir
  7. I lent it to someone but I can't remember who.
  8.-What is your favourite kind of music?
  Jazz.
  9. -Have you got many of his paintings?
  -Only two.
  10.-How long have you been playing the guitar?
  -For a long time, about ten years.
  II. 1:5 DBEAC
  Part 3
  I. 1. bravery
  2. ceremony
  3. pressure
  4. apply
  5. ambulance
  II. 1. watch out for.. be proud 3. cut off
  4. put my hands on 5.got involved in
  Ⅲ
  1. We have been friends-for a number of years.
  2. Your support will make a big difference to our plan.
  3. She treats me like one of the family.
  4. I think it is worthwhile to ask him to join the club.
  5. Thousands of students took part in the tes
  第4版
  GUIDED WRITING
  One possible version:
  If you find someone drowning, knowing some
  first aid knowledge can make a big difference.The
  steps are as follows.
  First of all, get the drowning person out of the
  water as quickly as possible. Then, check if the
  person can breathe. If not, try to start his breathing
  -immediately, using the mouth-to-mouth method:
  Meanwhile, do remember to call. for help. Continue
  performing first aid and don't. stop until-the
  ambulance argyes.
  Seconds count in a situation where you find
  someone drowning, and knowing' what to do can
  mean the difference between life and death.
如果遇到其他问题,请添加售后服务
QQ群:993749835