2019-2020英语周报高二上册课标第12期答案
发布日期:2019-12-08
上传者:K6D***8J
投诉
英语周报2019-2020高二上册课标第12期答案
  下面是2019-2020英语周报高二上册课标第12期答案
  更多 英语周报请微信公众号搜索"答案易对网"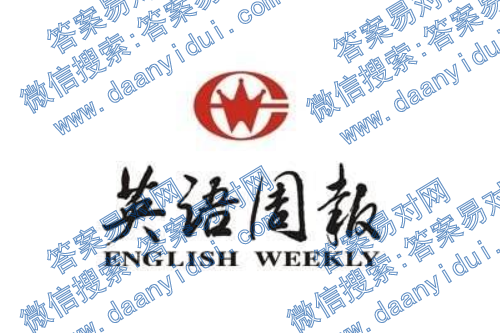 上期练习题参考答案
  第2版
  CHECKING CORNER
  I.1.① Apart from2broke② away from
  2.① concentrate on② depends on
  ③ put my hands on
  3.① speed up
  ② tookupswept up
  4.① Dconsist of② lose sight of③ take the place of
  ④ 4been accused
  ⑤ Sahead of
  5.①was put forward ②make no difference.
  ③ make sense④ breaking down
  6.① Dexposing;to②slid; into ③is; linked to
  7.① over and over again
  ② 2in place
  3 was strict with.④ so as to⑤ left out
  II.
  1. What I have said applies only to some of you.
  2. My grandfather. is very enthusiastic about growing
  vegetables.
  3. He wants to make a good impression on everyone
  he meets.
  4. She is optimistic about the future of the company.
  5:My father will be delighted to take care. of my cat.
  6. He demanded that he (should) be told everything.
  He demanded to be told everything.
  7. It is vital to your health that you take this medicine.
  8. You can't blame your. problem on your family.
  9. He took off his wet clothes and squeezed the water
  out.
  10. The book is divided into-six sections.
  III.A 1. attracted 2. royal 3. is taken up 4:variety
  5:nationwide 6. roughly 7.ambulance
  B.1. accomplished 2. enormous/vast./ giant
  3. accurate/exact4. assistant 5. experts
  6. process deal with 7. arialyse8. universe
  第3版
  CHECKING CORNER查
  I. 1. surprised
  2. Dressed3. Moved
  4. watered
  5. found
  6.grown
  7. completed8.tired
  9:seated
  10. Offered
  11. Translated:12. performed
  13.written
  14. asked
  15. invited
  II.1.sent
  2. cleaned3. known
  4. recognized.5. calling6.fixed
  7. interested 8. amused9:finished
  10. improved:
  Ⅲ
  1:attracted2. royal 3. is taken up 4:variety
  5:nationwide 6. roughly 7.ambulance
  B.1. accomplished2. enormous vast./ giant
  3. accurate /exact 4. assistant 5. experts
  6. process deal with 7. anialyse8:universe
  第3版
  CHECKING COR查
  I. 1. surprised 2. Dressed3. Moved
  .4. watered
  5. found
  6.grown
  .7. completed8.tired
  9:seated
  10. Offered11. Translated; 12. performed
  13. written
  14. asked
  15. invited
  II.1.sent
  2.. cleaned3. known
  4. recognized.5. calling6. fixed
  7. interested:8. amused9. finished
  10. improved:
如果遇到其他问题,请添加售后服务
QQ群:993749835