2019-2020学英语高一上册课标基础第2期答案
发布日期:2019-12-06
上传者:I0A***70
投诉
  学英语答案2019-2020学英语高一上册课标基础第2期答案
  下面是2019-2020学英语高一上册课标基础第2期答案
  更多 学英语请微信公众号搜索"答案易对网"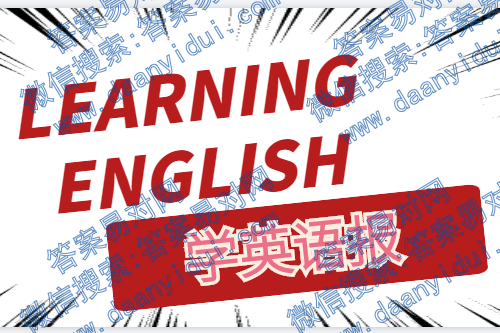 第1-3版
  1-5 ACBAC
  6-10 ACBBA
  11-15 BCABC
  16-20 CABCA
  21-25 DBCBB
  26-30 CADAC
  31-35 DBCDA
  36-40 DAFCE
  41-45 BCADB
  46-50 DACBC
  51-55 BDBAD
  56-60 CACAD
  61. immediately
  62. that/which
  64. with
  65. different
  66 years
  67. buildingy
  68. the
  4769. death
  70. doubted
  短文改错
  第二句:All→Both
  第三句:去掉in;the→a
  第四句:have→had
  第五句:like后加to
  第六句:surprising→surprised; bravely→brave
  第七句:but→and; address-→addresses
  第八句:where-→thatwhich
  书面表达
  选做题一
  1. Tom is one of my good friends and we have been getting along
  well with each other.
  2. He was late for school yesterday and seemed very upset
  3. After he calmed down, I asked him what had happened.
  .4. It turned out that his father was in hospital. He wanted to look
  after him, but his father disagreed.
  5. I told him not to be too concerned an d that I would go to look
  after his father with him at the weekend in the hope that his
  father would recover soon.
  选做题二
  One possible version:
  Dear Eric
  I'm sorry to learn that you've gotten into the habit of depending
  on your cell phone for the answers to difficult problems while
  studying. As your best friend,i' d like to my advice with you.
  First of all, you should try your best to solve the problems on
  your own. Secondly, if you can't solve them alone, feel free to ask
  me for help, or you can directly ask teachers for help.With time
  going by, your ability to deal with problems will be improved.
  I hope that you can take my suggestions into consideration.
  Use your brain instead of your cell phone, and you'll make great
  rogress.
  Yours sincerely,
  Li Hua
  第4版
  写作训练
  One possible version:
  Dear Tom,
  I'm Li Hua. From your letteron the Internet I knew that you
  want to make friends with a high school student from Beijing. I am
  glad that we have the chance to become friends.
  I am senior one student from Xin Hua Senior High School
  in Beijing. I have a good command of English, so I cah introduce
  Beijing to you by. sending emails. When you come to Beijing, I
  will show you aroundsome places of historical interest and
  treat you to different kinds of snacks. I will try my best to write to
you as often as possible. I'm looking forward to your early reply.
  Yours,
  Li Hua
如果遇到其他问题,请添加售后服务
QQ群:993749835