衡中同卷 2020信息卷 英语试题(一)答案 全国Ⅲ卷
发布日期:2020-05-21
上传者:0E0***6J
投诉
  衡中同卷 2020信息卷 英语试题(一)答案 全国Ⅲ卷
  需要核对本张试卷答案请点击页面底部"立即查看"
  更多衡中同卷核对请微信公众号搜索"答案易对网"关注!
  衡中同卷 2020信息卷 英语试题(一)答案 全国Ⅲ卷 资源验证如下: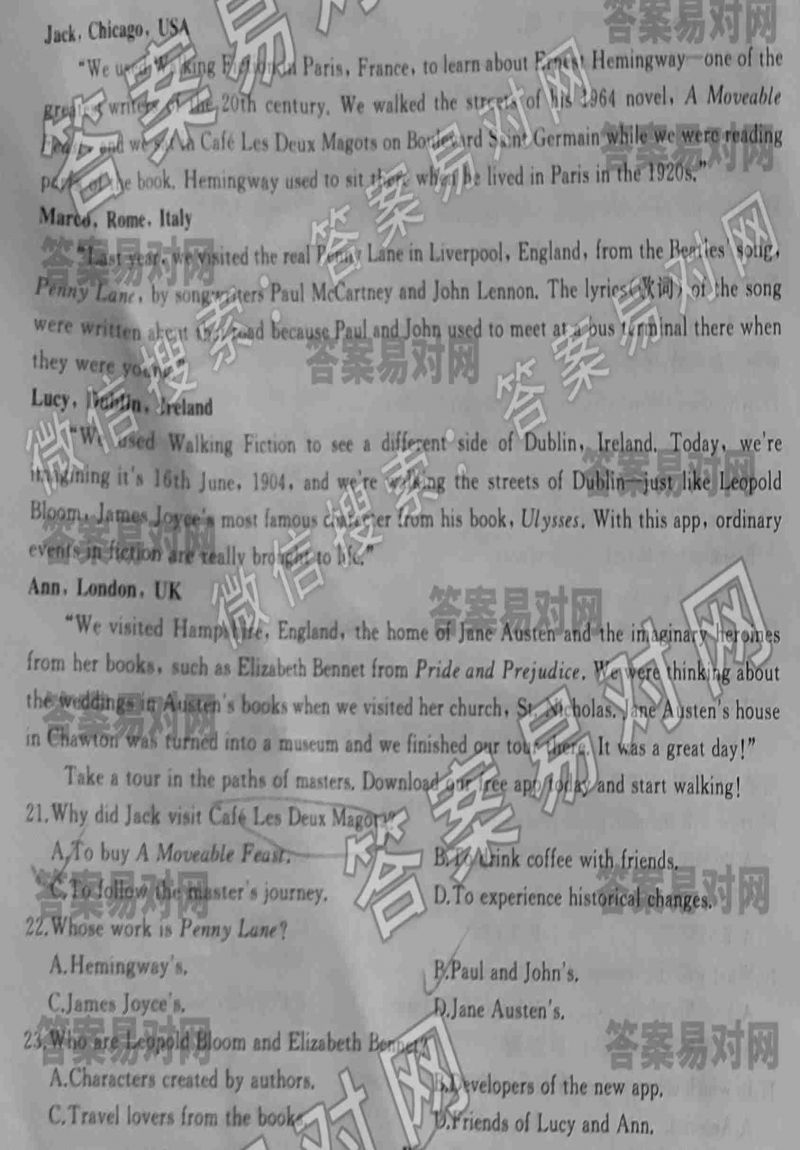 Walk in the footsteps of the characters from your favourite books, poems and songs, with the new Walking Fiction app.
  Jack.Chicago. USA
  "We used Walking Fiction in Paris, France, to learn about Ernest Hemingway one of the greatest writers of the2 0th century. We walked the streets of his1964 novel, Moveable Feast, and we sat in Cafe Les Deux Magots on Boulevard Saint Germain while we were reading parts of the book. Hemingway used to sit there when he lived in Paris in the 1920s."
  Marco. Rome. Italy
  "Last year, we visited the real Penny Lane in Liverpool, England, from the Beatles' song, Penny Lane, by songwriters Paul McCartney and John Lennon. The lyrics(歌词) of the song were written about that road because Paul and John used to meet at a bus terminal there when they were young.
  Lucy, Dublin. Ireland
  "We used Walking Fiction to see a different side of Dublin, Ireland. Today, we're imagining it's 16th June. 1904 and we're walking the streets of Dublin-just like Leopold Bloom, James Joyce's' most famous character from his book, Ulysses. With this app, ordinary events in fiction are really brought to life.
  Ann, London. UK
  "We visited Hampshire, England, the home of Jane Austen and the imaginary heroines from her books, such as Elizabeth Bennet from Pride and Prejudice. We were thinking about the weddings in Austen's books when we visited her church, St. Nicholas. Jane Austen's house in Chawton was turned into a museum and we finished our tour there. It was a great day!"
  Take a tour in the paths of masters Download our free app today and start walking!
  21. Why did Jack visit Cafe Les Deux Magots?
  A, To buy A Moveable Feast:
  B. To drink coffee with friends.
  C. To follow the master's journey.
  D. To experience historical changes.
  答案:
  【语篇导读】本文属于应用文。文章介绍了一款APP(应用程序):Walking Fiction。该程序可以帮助我们去亲自感受文学作品中或歌曲中所描绘的地点或场景,让读者身临其境,感悟作者当时创作该作品时的真实情景。
  21.C细节理解题。根据Jack, Chicago,USA后面的内容可知,ack坐在圣日耳曼大道上的 Les Deux Magots咖啡馆里读着海明威的《流动的盛宴》,因为20世纪20年代,海明威住在巴黎时,常坐在那里。而且《流动的盛宴》描写的就是巴黎的生活。由此可知,Jack去那儿是为了追随大师的足迹。
  22.B细节理解题。根据 Marco,ome, Italy后面的from the Beatles'song, Penny Lane, by songwriters Paul McCartney and John Lennon.信息可知,Penny Lane是保罗·麦卡特尼和约翰·列侬的作品。
  23.A细节理解题。根据Lucy, Dublin, Ireland和Ann, London,uk的内容just like Leopold Bloom, James Joyce's most famous character from his book, Ulysses.和the imaginary heroines from her books, such as Elizabeth Bennet from Pride and Prejudice.可知,这两个人物是两个作者在他们的作品中创造出来的虚拟人物。
  以上就是衡中同卷 2020信息卷 英语试题(一)答案 全国Ⅲ卷 的部分试卷内容,需要核对本张试卷答案请点击"立即查看"更多答案请微信公众号搜索"答案易对网"
如果遇到其他问题,请添加售后服务
QQ群:993749835