学海园大联考 2020届高三信息卷(一) 英语答案
发布日期:2020-06-22
上传者:11C***FE
投诉
  学海园大联考 2020届高三信息卷(一) 英语答案
  需要核对本张试卷答案请点击页面底部"立即查看"
  更多试卷易对试卷答案核对请微信公众号搜索"答案易对网"关注!
  学海园大联考 2020届高三信息卷(一) 英语答案 的资源验证如下: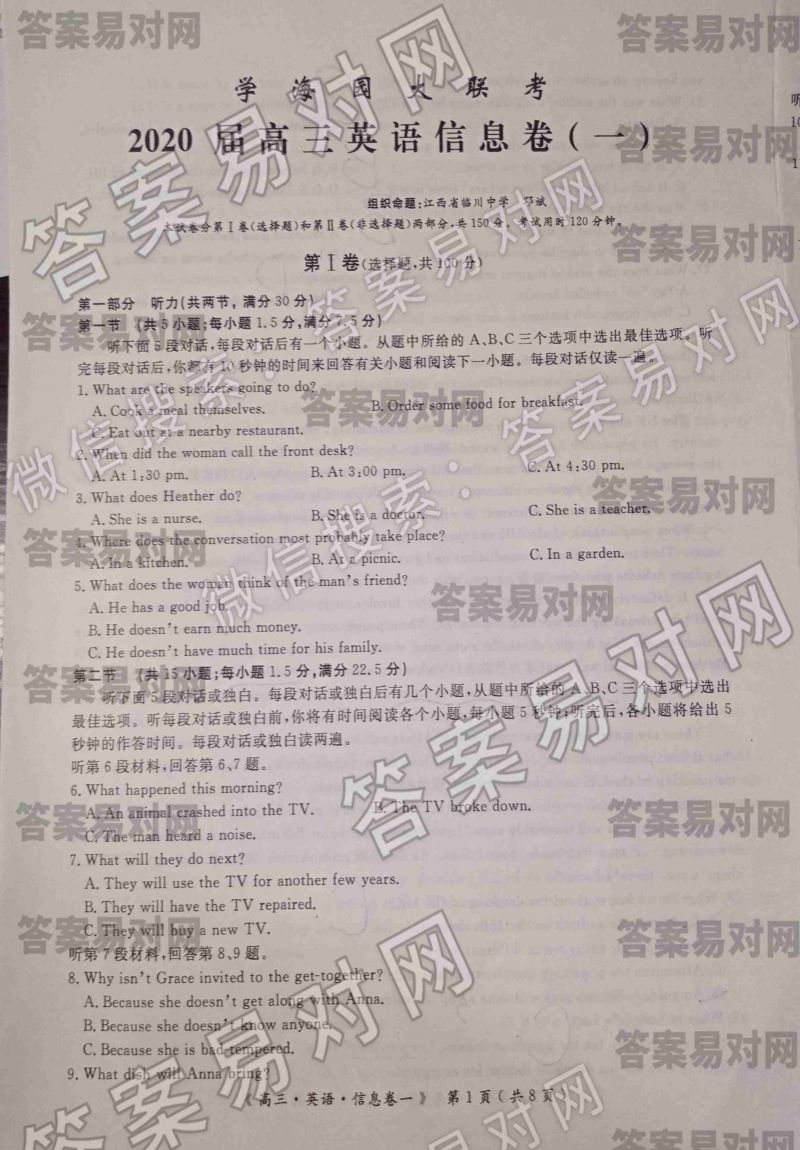 Teenagers love to socialize, and these websites give them chance to do that while playing games, exploring virtual(虚拟的) worlds and taking quizzes. Of course, they also need to be safe on-line and report any cyber bullies网络欺凌)
  Instagram
  Instagram allows teenagers to upload photos of their daily lives and share them with friends.People say that a picture is worth a thousand words, and that must be true because Instagram has a-
  round 300 million users who are active each month. The platform is all about photos with short cap-tions(说明文字)。 When it comes to Instagram's users,53 percent of them are aged18-29, but big percentage of those may be even younger and simply list their age as 18 in order to use the platform.
  Habbo Hotel
  Habbo Hotel is a place for teens to chat. Each teen receives a personal room to decorate with virtual objects. They can also dress their avatars(网络头像) in virtual clothes or create games to play with friends. The room might have music, be set up like a classroom, or have other features so dif-ferent avatars can visit one another. Each room teens can interact in has an adult moderator(管理员)to make sure it stays safe.
  Fanlala
  Fanlala is a social network that gives teens who love celebrities, music and TV shows a place to interact. Through it, users can get the latest news and gossip on their favorite shows, as well as take quizzes and polls to test their knowledge. Teens can set up their own profiles on Fanlala and interact with other users.
  Teen Chat
  Teen Chat is place for teens to interact with one another through forums(论坛) according to their interests. For example, there are chat rooms for those who love anime(日本动画片) and for those who've just started college. There are also chat rooms for things like music, games, and sports. The platform offers"Friend Finder"tool that will help teens search for people who live lo-cally to them.
  答案:
  【解题导语】这是一篇说明文。文章为青少年介绍了一些社交网络,这些网站让他们有机会玩游、探索虚拟世界和谈话测验。当然,青少年也需要安全上网,并报告任何网络欺凌。
  21.B定Habbo位 Hotel段"Each teen receives personal room to deco rate with virtual objects. They can also dress their avatars in virtu-al clothes or create games to play with friends.可知,在这个网站上,青少年可以装饰设计虚拟空间并赋予它自己的个性,因此答案为B。其他网站未体现这一特点,因此排除其他三项。favorite shows可知,用户可以从这个网站上可以获得关于他们喜
  22. D "Through it, users can get the latest news and gossip on their爱的节目的最新消息和小道传闻,因此答案为D其它三项内容此段未提及。
  23.B通读全文可知,本篇文章介绍了各种各样的社交网站,故选B
  以上就是学海园大联考 2020届高三信息卷(一) 英语答案 的部分试卷内容,需要核对本张试卷答案请点击"立即查看"更多答案请微信公众号搜索"答案易对网"
如果遇到其他问题,请添加售后服务
QQ群:993749835