2020衡水金卷先享题 压轴卷 英语(二)答案 【山东·专版】(不含听力)
发布日期:2020-06-26
上传者:2DI***DH
投诉
  2020衡水金卷先享题 压轴卷 英语(二)答案 【山东·专版】(不含听力)
  需要核对本张试卷答案请点击页面底部"立即查看"
  更多衡水金卷先享题试卷答案核对请微信公众号搜索"答案易对网"关注!
  2020衡水金卷先享题 压轴卷 英语(二)答案 【山东·专版】(不含听力)资源验证如下: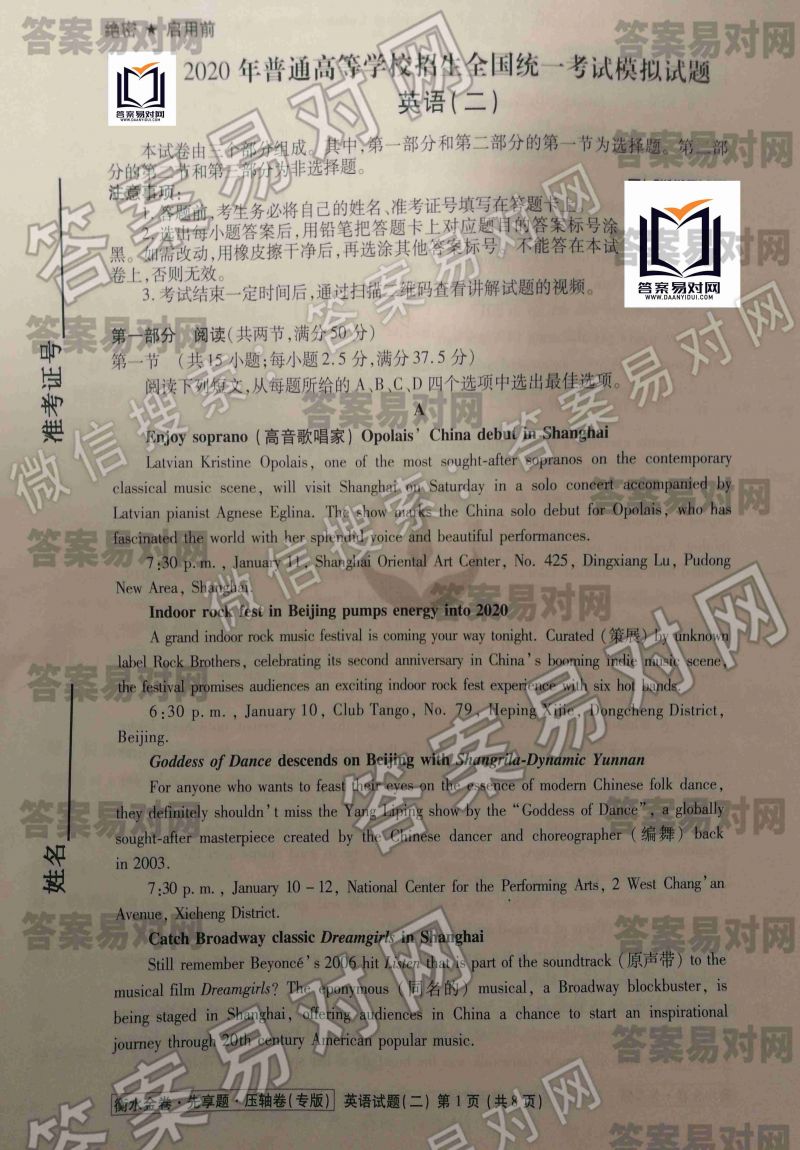 Enjoy soprano(高音歌唱家) Opolais'China debut in Shanghai
  Latvian Kristine Opolais, one of the most sought-after sopranos on the contemporary classical music scene, will visit Shanghai on Saturday in a solo concert accompanied y Latvian pianist Agnese Eglina. The show marks the China solo debut for Opolais, who has fascinated the world with her splendid voice and beautiful performances.
  7:30 p. m. January 11, Shanghai Oriental Art Center, No. 425, Dingxiang Lu, Pudong New Area. Shanghai
  Indoor rock fest in Beijing pumps energy into 2020
  A grand indoor rock music festival is coming your way tonight. Curated by unknown label Rock Brothers. celebrating its second anniversary in China's booming indie music scene.the festival promises audiences an exciting indoor rock fest experience with six hot bands.
  6:30 p. m., January 10, Club Tango, No. 79, Heping Xijie, Dongcheng District, Beijing.
  Goddess of Dance descends on Beijing with Shangrila-Dynamic Yunnan
  For anyone who wants to feast their eyes on the essence of modern Chinese folk dance, they definitely shouldn't miss the Yang Liping show by the "Goddess of Dance", a globally sought-after masterpiece created by the Chinese dancer and choreographer back in2003.
  7:30 p. m. January 10-12, National Center for the Performing Arts, 2 West Chang'an Avenue, Xicheng District.
  Catch Broadway classic Dreamgirls in Shanghai
  Still remember Beyonce' s 2006 hit Listen that is part of the soundtrack to the musical film Dreamgirls? The eponymous musical, a Broadway blockbuster, is being staged in Shanghai, offering audiences in China a chance to start an inspirational journey through 20th century American popular music.
  答案:
  【语篇导读】本文是一篇应用文。文章主要介绍了2020年1月份在北京和上海的几个演出,包括古典音乐、室内摇滚乐、舞蹈以及音乐片。
  1.C【解析】细节理解题。根据 Enjoy soprano Opolais'China debut in Shanghai 30 p. m. January 11可知,正确答案为C。
  2.D【解析】细节理解题。根据 Goddess of Dance descends on Beijing with Shangrila-Dynamic Yunnan的 National Center for the Performing Arts可知,正确答案为D。
  3.B【解析】细节理解题。根据 Catch Broadway classic Dreamgirls in Shanghai中的 Still remember Beyonce2006 hit Listen that is part of the soundtrack to the musi-cal film Dreamgirls?可知,《倾听》在2006年是一首非常流行的歌曲。故正确答案为B。其余各项均与原文内容不符。
  以上就是2020衡水金卷先享题 压轴卷 英语(二)答案 【山东·专版】(不含听力)的部分试卷内容,需要核对本张试卷答案请点击"立即查看"更多答案请微信公众号搜索"答案易对网"
如果遇到其他问题,请添加售后服务
QQ群:993749835