2020年普通高等学校招生全国统一考试考前演练三(全国新课标卷I)英语答案(J)
发布日期:2020-06-26
上传者:3H5***29
投诉
  2020年普通高等学校招生全国统一考试考前演练三(全国新课标卷I)英语答案(J)
  需要核对本张试卷答案请点击页面底部"立即查看"
  更多联考易对核对请微信公众号搜索"答案易对网"关注!
  2020年普通高等学校招生全国统一考试考前演练三(全国新课标卷I)英语答案(J)的资源验证如下: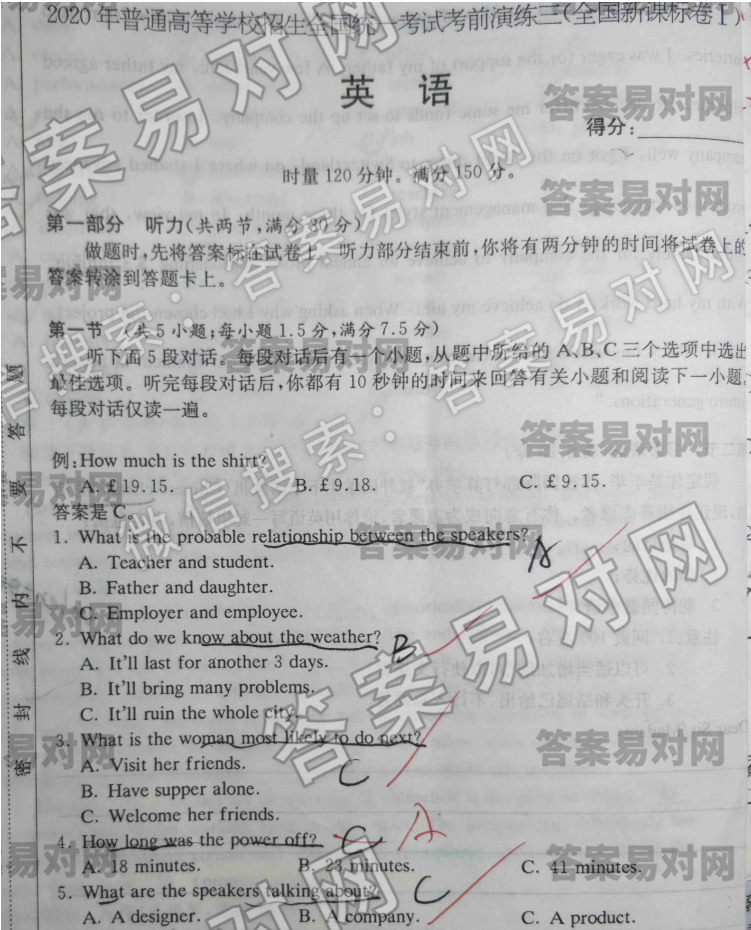 Cities all over the world celebrate Christmas in uniquc and memorable ways. The following international destinations are just a few of the countless choices to consider.
  Ouebec city
  Qucbec city has long drawn admirers to its historic district-the famed city wall.strange cobblestone lanes(鹅卵石小路) and handsome stone houses. This area transforms into a scenic Christmas village each December. The 403-year-old capital of Quebec province takes pride in the outdoors at Christmas time, when stone buildings shine with lights. Consider cross-country ski on the Plains of Abraham, or skate at the place d'Youville square.
  Edinburgh
  Edinburgh, a magic city full of staircases and hills as well as Gcorgian and neo-Classical buildings, is famous for its mixture of the modern and the old. This is evident in winter, when Scotland's capital puts on a six-week festival lasting until Jan. 6 that goes way beyond Christmas markets. You can ride roller coasters, climb wall of ice and attend vivid Christmas-themed- show by the cabaret troupe(剧团) La Clique.
  Zurich
  If buying gifts is on your travel schedule, Zurich is an impressive shopping center particularly around the holidays from multiple Christmas markets and the luxury(奢侈品) dress shops of Bahnhofstrasse Street, to the independent designers and antique shops in the emerging industrial zones. Another annual lighting spectacle(壮观场面), Lichterschwimmen, on Dec. 21, includes hundreds of tiny lanterns that are sent floating down the River Limmat.
  Sydney
  A lack of snow does not dampen the Christmas spirit in Sydney. One great and free way to feel the holiday is to take this Dec. 21 walking tour of George Street, which promises "the most sharable window displays and coloured lights. "One advantage over other destinations:warm, sandy beaches that lie just minutes from downtown, where the natural beauty of Australia's most popular city will be waiting.
  答案:
  【语篇导读】本文是应用文。介绍了四个适合圣诞节期间旅游的好去处。
  21.C.细节理解题。根据第二段最后一句Consider cross-country- ski on the Plains of Abraham, or skate at the place d'Youville' square.(可以考虑在亚伯拉罕平原上越野滑雪或者在尤维尔广场上滑冰。)可知,答案选C
  22.D.细节理解题。根据文章最后一段首句 lack of snow does not dampen the Christmas spirit in Sydney.可知,答案选D
  23.A文章出处题。通读全文内容可知,本文主要介绍了四个适合在圣诞节期间旅行的城市所以最有可能摘自一本旅行指南。答案选A。
以上就是2020年普通高等学校招生全国统一考试考前演练三(全国新课标卷I)英语答案(J)的部分试卷内容,需要核对本张试卷答案请点击"立即查看"更多答案请微信公众号搜索"答案易对网"
如果遇到其他问题,请添加售后服务
QQ群:993749835