百校联盟 2020年高考名师猜题保温金卷 英语答案(6.21-6.29)
发布日期:2020-06-28
上传者:CD3***7D
投诉
  百校联盟 2020年高考名师猜题保温金卷 英语答案(6.21-6.29)
  需要核对本张试卷答案请点击页面底部"立即查看"
  更多试卷易对试卷答案核对请微信公众号搜索"答案易对网"关注!
  百校联盟 2020年高考名师猜题保温金卷 英语答案(6.21-6.29) 的资源验证如下: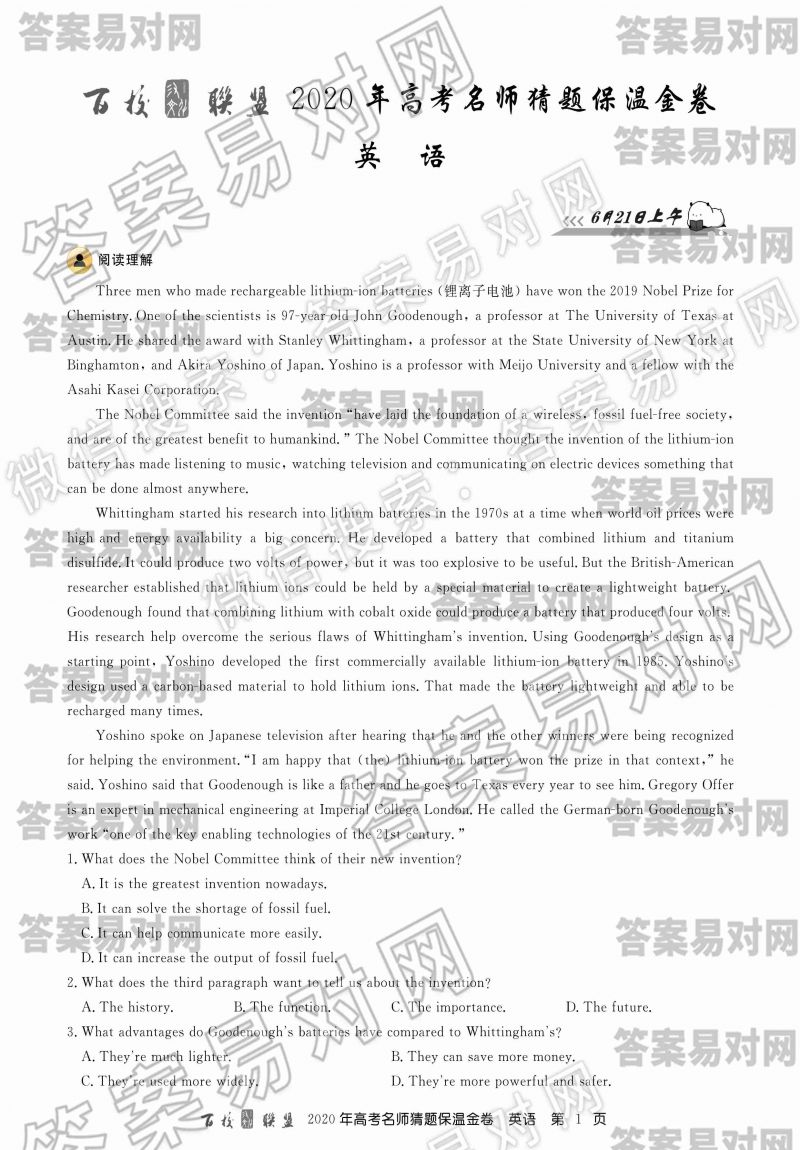 Three men who made rechargeable lithium-ion- batteries(锂离子电池) have won the2019 Nobel Prize for Chemistry. One of the scientists is 97-year-old John Goodenough, a professor at The University of Texas at Austin. He shared the award with Stanley Whittingham, a professor at the State University of New York at Binghamton, and Akira Yoshino of Japan. Yoshino is professor with Meijo University and a fellow with the Asahi Kasci Corporation.
  The Nobel Committee said the invention "have laid the foundation of a wireless fossil fuel-free society.and are of the greatest benefit to humankind "The Nobel Committee thought the invention of the lithium-ion battery has made listening to music, watching television and communicat on electric devices something that can be done almost anywhere.
  Whittingham started his research into lithium batteries in the 1970s at a time when world oil prices were high and energy availability a big concern. He developed a battery that combined lithium and titanium disulfide. It could produce two volts of power, but it was too explosive to be useful. But the British-American researcher established that lithium ions could be held by a special material to create a lightweight battery.Goodenough found that combining lithium with cobalt oxide could produce battery that produced four volts.His research help overcome the serious flaws of Whittingham's invention. Using Goodenough's design as a starting point. Yoshino developed the first commercially available lithium-ion battery in 1985. Yoshino's design used a carbon-based material to hold lithium ions. That made the battery lightweight and able to be recharged many times.
  Yoshino spoke on Japanese television after hearing that he and the other winners were being recognized for helping the environment. "I am happy that (the) lithium-ion battery won the prize in that context. "he said. Yoshino said that Goodenough is like a father and he goes to Texas every year to see him. Gregory Offer work "one of the key enabling technologies of the 21st century, He called the German-born Goodenough's is an expert in mechanical engineering at Imperial College London. H
  1. What does the Nobel Committee think of their new invention?
  A. It is the greatest invention nowadays.
  B. It can solve the shortage of fossil fuel.
  C. It can help communicate more easily.
  D. It can increase the output of fossil fuel.
答案:
  【篇章导读】本文主要介绍了三位获得2019年诺贝尔化学奖科学家及其他们的发明。
  1.C【解析】细节理解题。根据第二段 The Nobel Committee thought the invention of the lithium-ion battery has made listening to music, watching television and communicating on electric devices something that can be done almost anywhere.知,诺贝尔评委会认为锂离子电池的发明使得在电子设备上听音乐、看电视和交流成为可能,几乎在任何地方都可以做到,因此本题答案为C。
  2.A【解析】段落主旨大意题。第三段主要讲述了这种锂电子电池发明的过程,因此本题答案为A
  3.D【解析】细节理解题。根据第三段 His research help overcome the serious flaws of Whittingham's invention.可知,Goodenough的发明克服了Whittingham发明的缺陷,而上文说 Whittingham的发明 It could produce two volts of power, but it was too explosive to be useful.可知, Goodenough的发明产生的能量更多,更安全。
  以上就是百校联盟 2020年高考名师猜题保温金卷 英语答案(6.21-6.29) 的部分试卷内容,需要核对本张试卷答案请点击"立即查看"更多答案请微信公众号搜索"答案易对网"
如果遇到其他问题,请添加售后服务
QQ群:993749835