2020年普通高等学校招生全国统一考试 临门一卷(二)QG 英语答案
发布日期:2020-06-28
上传者:9J0***J3
投诉
  2020年普通高等学校招生全国统一考试 临门一卷(二)QG 英语答案
  需要核对本张试卷答案请点击页面底部"立即查看"
  更多试卷易对试卷答案核对请微信公众号搜索"答案易对网"关注!
  2020年普通高等学校招生全国统一考试 临门一卷(二)QG 英语答案 的资源验证如下: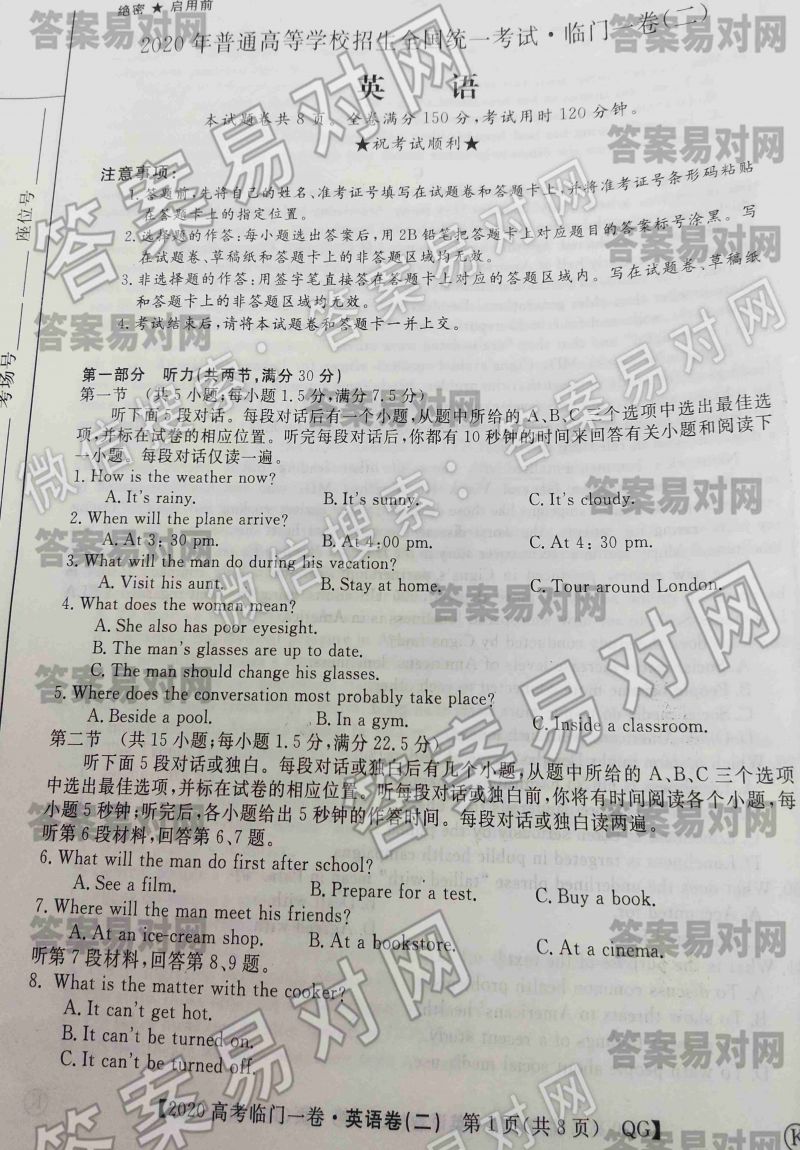 My best friend travelled to stay with my family last weekend. when she arrived, she went straight to the kitchen and, without asking, ate some dried fruit. She wasn't' being rude. I knew she would do this We've known each other for almost 20 years. She can eat anything she wants from my kitchen. Indeed, I bought her favorite fruits and snacks at the shop that morning.
  Our long weekend together was simple. I was recovering from surgery and couldn't go to shopping malls. we passed the time running errands(差事) but there's' never been quiet moment. We've lived in different cities for almost a decade. Reunions demand conversation.
  Our personalities are matched, to be sure, and shared history is indescribably(难以形容地) valuable. We were competitors at high school before bonding. Then we discovered the many interests that we had in common. Our friendship developed itself quickly. We stayed companions and supported each other through law school and through our first jobs. Ours is a friendship for the ages.
  There is something special about friends who know everything about you. They are rare.They have seen your bright lights of achievements, the depths of desperation(绝望的境地)and the boring routine of the in-between. It's special to unpack feelings without wasting time filling in the blanks. As my long weekend shows, with such friends we don't have to "do", but we simply have to "be". We drop the act, the performance, the public version of ourselves. The special friendships are those which never fail to delight, whose continuation is worth the extra effort, despite distance and difference in your separate lives. I had the very great joy of this reminder last weekend. I'm lucky to have found this friend, and to see a future where her companionship remains Being together is perfection.
  答案:
  24.A推理判断题根据第二段中的We've lived in different cities for almost decade. Reunions demand
  25.D推理判断题,根据第四段中的" my long weekend shows, with such friends we don't' have todo but we simply have tobe" We drop the act the performance, the public version of ourselves"可推出答案conversation和前一句可知答案
  26.B细节理解题。根据最后一段中的The special friendships are thowe which never fail to delight, whose continuation is worth the extra cllot despite distance and difference in your separate live可知答案。
  以上就是2020年普通高等学校招生全国统一考试 临门一卷(二)QG 英语答案 的部分试卷内容,需要核对本张试卷答案请点击"立即查看"更多答案请微信公众号搜索"答案易对网"
如果遇到其他问题,请添加售后服务
QQ群:993749835