百色高中 2020年高考备考六月份适应性考试试题 英语答案
发布日期:2020-06-29
上传者:C2D***KC
投诉
  百色高中 2020年高考备考六月份适应性考试试题 英语答案
  需要核对本张试卷答案请点击页面底部"立即查看"
  更多试卷易对试卷答案核对请微信公众号搜索"答案易对网"关注!
  百色高中 2020年高考备考六月份适应性考试试题 英语答案 的资源验证如下: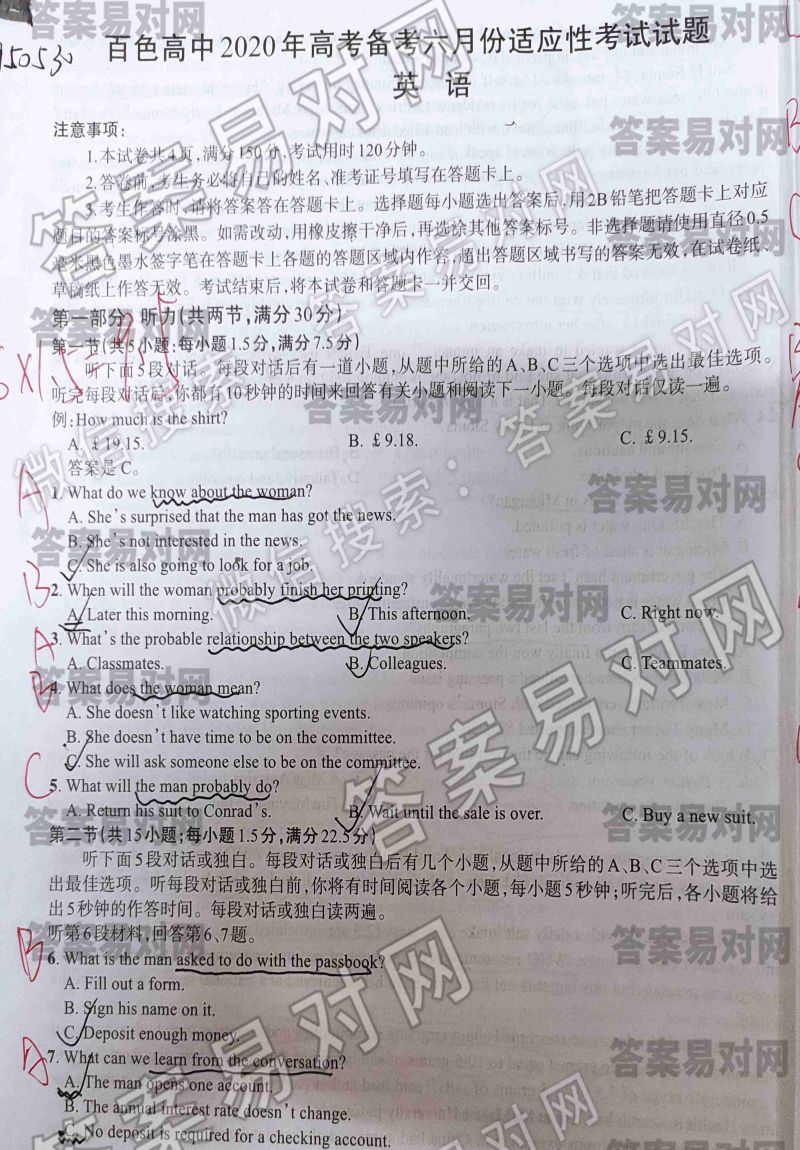 Bus
  Buses are the cheapest and most common form of public transport available for travelling between towns and cities. Intercity and Naked Bus are the two main providers of this service, and fares start from NZ$10
  Although not public transport, hop-on hop-off buses are also a popular way to get around New Zea-land, especially among backpackers. Choose your pass and make up your route -as you go along.
  Train
  Trains are not common form of public transport in New Zealand, however, there are three main train lines operated by KiwiRaiL:Auckland to Wellington (Northern Explorer), Picton to Christchurch( Coastal Pacific), and Christchurch to the West Coast( the TranzAlpine-considered- one- of the most sce-nic rail journeys in the world)。 Train tickets start from around NZ$49 per person.
  Ferry
  Ferries are popular for travel between the North and South Islands. The two major providers are In-terIslander and Bluebridge, and fares start at$55 for foot passengers. Taking the ferry means you'll experience the beautiful Marlborough Sounds on your way into or out of Picton.
  Ferry travel is also available between the mainland and New Zealand's offshore islands, including Waiheke, Rangitoto and Great Barrier near Auckland city, and Stewart Island just below the South Is-land. In some coastal areas, ferries connect towns which are closer via water than via road-including Russell and Paihia in the Bay of Islands.
  Water taxis are smaller vessels which offer a scheduled service visiting the small ports that fer-ries can't reach-handy for reaching out of the way hiking and mountain biking spots in places like Queen Charlotte Sounds and Abel Tasman National Park.
  答案:
  【语篇导读】本篇为应用文,文章介绍了新西兰的公共交通方式。
  21.C.【解析】细节理解题。根据文章第2段的内容,欣赏世界上最美丽的铁路风景线之一就是乘坐从 Christchurch至 the West Coast的 TranzAlpine号列车,所以该题选C
  22.C.【解析】细节理解题。根据文章第3段第2行的内容,游客乘坐渡船的费用是55新西兰圆,所以该题选C
  23.D.【解析】推理判断题。根据文章最后一段:Water taxis are smaller vessels which offer scheduled service visiting the small ports that ferries can't' reach.所以该题选D
  以上就是百色高中 2020年高考备考六月份适应性考试试题 英语答案 的部分试卷内容,需要核对本张试卷答案请点击"立即查看"更多答案请微信公众号搜索"答案易对网"
如果遇到其他问题,请添加售后服务
QQ群:993749835