2020年高三原创押题卷(三)·英语答案
发布日期:2020-06-30
上传者:7A0***EB
投诉
  2020年高三原创押题卷(三)·英语答案
  需要核对本张试卷答案请点击页面底部"立即查看"
  更多试卷易对试卷答案核对请微信公众号搜索"答案易对网"关注!
  2020年高三原创押题卷(三)·英语答案 的资源验证如下: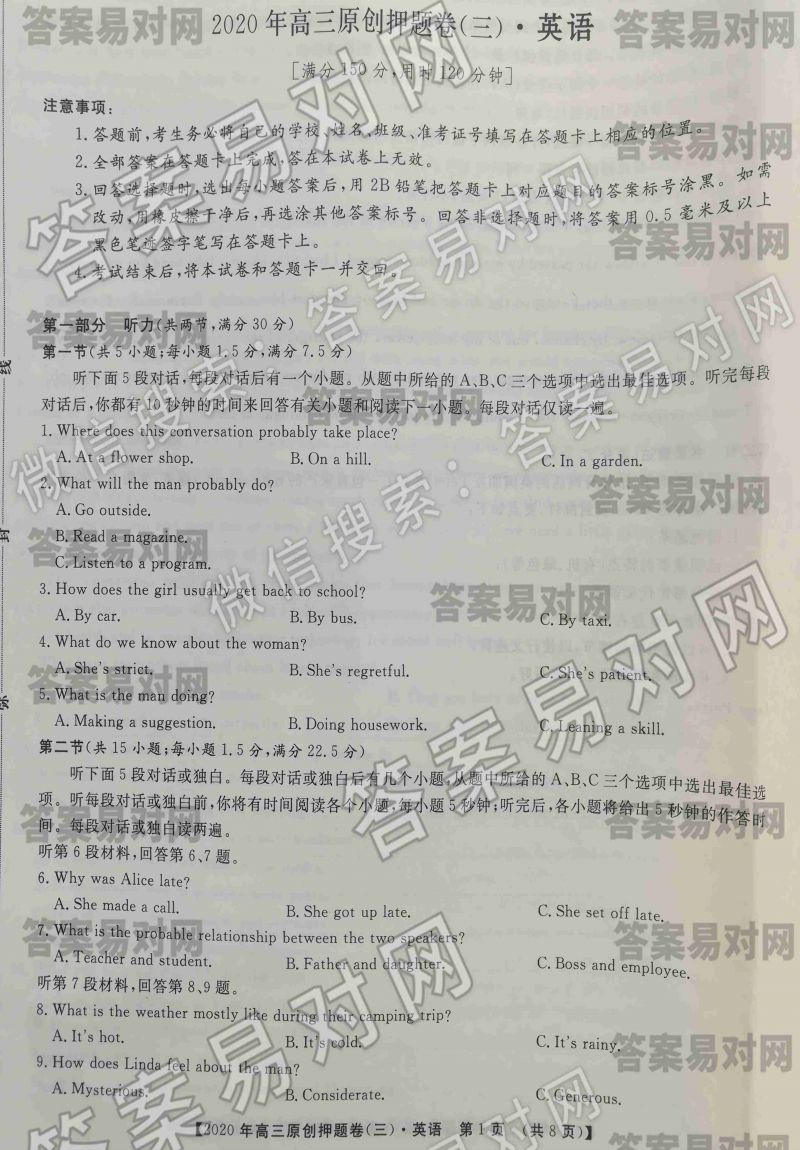 A Visitor Oyster card is the cheapest way to pay for a single adult journey in London. It's a plastic smartcard. You can use it on the bus,tube,tram,dlr, London Overground and most National Rail services. It's much cheaper than buying individual tickets, in some cases costing 50% less than the price of a regular paper ticket.
  How to get a Visitor Oyster card?
  You can buy a Visitor Oyster card online. Your card will be delivered by post. The card costs 5 and you choose how much money you want to add to the card. This means you can start using the card the moment you arrive in Central London.
  How does the Visitor Oyster card work?
  The Oyster card works on a pay-as-you-go system. You start by adding money to the card. Then you travel, the cost of the fare will automatically be deducted from your Visitor Oyster card. For example, if you add to the card and make a tube journey of f2. 30, you will have E17. 70 left on the card.
  A few more points:
  A child under the age of 11 travels free when accompanied by an adult.
  You' 'll save more money if you use the tube several times. The Visitor Oyster card iscapped(给……定上限)"atf6.80 per day.
  You'll pay more during peak times. Peak fares apply from Monday to Friday (6:30 am-9:30 am;4:00 pm-7:00 pm), except for public holidays.
  Reuse the Oyster card by adding credit at a tube station, Oyster ticket shop or Visitor Centre.
  Receive a discount on the Thames Clippers River Bus services.
  21. What can we learn about the Visitor Oyster card?
  A. You can't use it during public holidays.
  B. You can have it mailed directly to your home.
  C. You can get a free Oyster card if you order online.
  D. You can receive 50% discount at any shop in London.
  答案:
  21.选B细节理解题。根据第二段第二句"Yourcard will be delivered by post."可知, Visitor Oyster card可以直接寄到你家。故选B。
  22.选C细节理解题。根据 few more points部分中的"You'll save more money if you use the tube severa times. The Visitor Oyster card is capped(给定上限)'atf6.80 per day."可知,你一天无论乘几次地铁,所支付的费用都不会超过6.80这个上限,故选C
  23.选A细节理解题。根据 few more points部分中的倒数第二条"Reuse the Oyster card by adding credit at tube station, Oyster ticket shop or Visitor Centre.可知,可以在地铁站充值,故选A。
  以上就是2020年高三原创押题卷(三)·英语答案 的部分试卷内容,需要核对本张试卷答案请点击"立即查看"更多答案请微信公众号搜索"答案易对网"
如果遇到其他问题,请添加售后服务
QQ群:993749835