2020年高三原创押题卷(二)·英语答案
发布日期:2020-06-30
上传者:C78***6I
投诉
  2020年高三原创押题卷(二)·英语答案
  需要核对本张试卷答案请点击页面底部"立即查看"
  更多试卷易对试卷答案核对请微信公众号搜索"答案易对网"关注!
  2020年高三原创押题卷(二)·英语答案 的资源验证如下: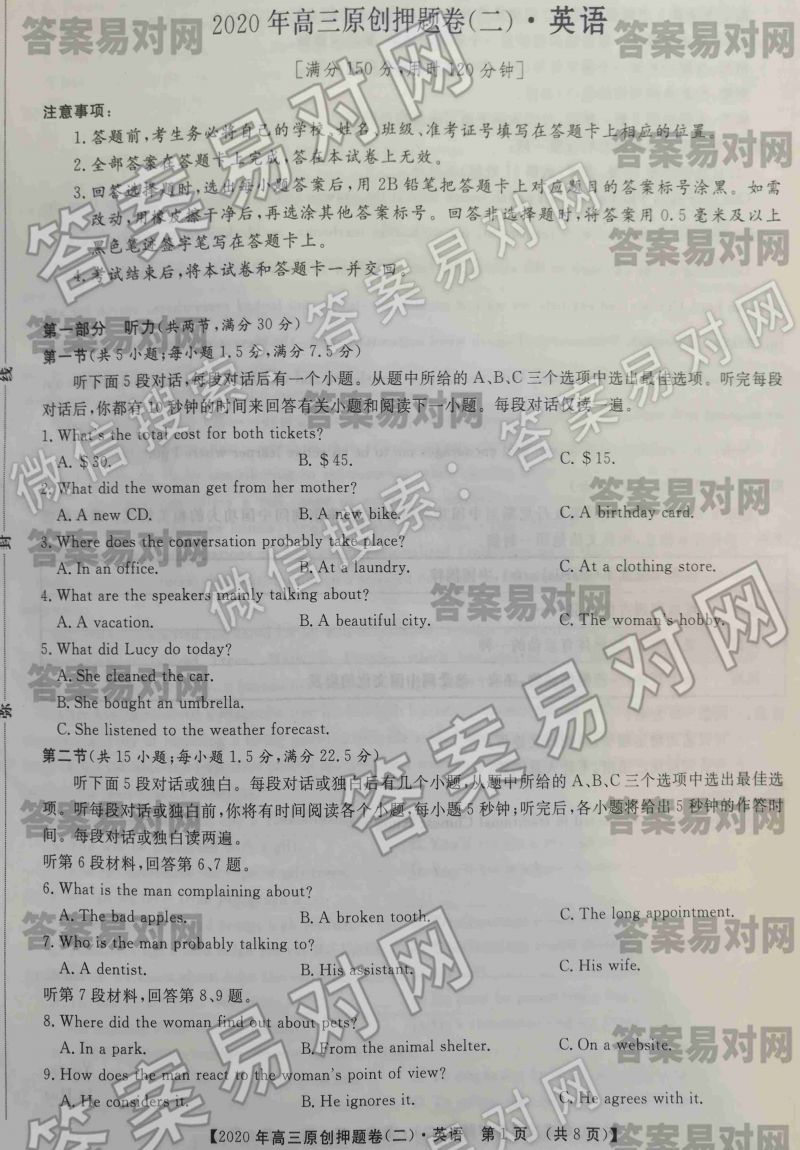 If you're looking to fully experience Africa's breathtaking scenery, and have an eye for adventure, then there's only one place to be. Here, inside Africa picks four of the best hikes from across the continent.
  Kilimanjaro
  Make it to the top of Tanzania's 5, 895-meter Kilimanjaro, and you'll be standing at Africa's highest point. The mountain is Africa's most-visited hiking destination, attracting tens of thousands of tourists and adventures every year. You don't' have to be technical climber to climb Mount Kilimanjaro you just need not be pretty physically fit. There are six routes to choose from difficulty, scenery and success. No special equipment.
  Atlas Mountains
  The High Atlas is an impressive mountainous range in central Morocco that hosts North Africa's highest peak. Mount Toubkal, at 4. 165 meters. There's a variety of routes to follow during your climb but inexperienced climbers should note that the hike through the mountain's challenging zones is quite demanding.
  Mount Kenya
  A long-extinct volcano. Mount Kenya is Africa's second-highest peak at 5, 199 meters. Lying just south of the equator, the mountain's deep valleys and diverse wildlife will guarantee you wonderful scenery and fantastic hiking experience. The climb, however, to the mountain's steep ice-capped peaks is quite challenging, making it the most technical, probably, in that East African area.
  Mount Meru
  Mount Meru may forever exist in the shadow of its neighbor, Kilimanjar, but Tanzania's second-highest mountain (4, 565 meters) has its own devotees. It's less known, but Mount Meru is for the true enthusiast who wants to experience what very few people actually do. Mount Meru is often used by mountaineers to accustom themselves before trying to conquer Kilimanjaro, or by those wanting a hike with the local Massai.
  21. What do we know about Kilimanjaro?
  A. It's comparatively easy to climb.
  B. It's Africa's second-highest mountain.
  C. Its six routes are equally difficult.
  D. It lies to the east of Tanzania.
  答案:
  21.选A细节理解题。由文章中介绍 Kilimanjaro部分中"You don't' have to be technical climber to climb Mount Kilimanjaro:you just need not be pretty physi-cally fit."可知,攀登 Kilimanjaro相对比较容易,故答案为A
  22.选C细节理解题。根据文章最后一段"Mount Meru is often used by mountaineers to accustom themsclves before trying to conquer Kilimanjaro"可知答案为C
  23.选B细节理解题。根据四座山的高度对比,可知At las Mountains高度最低,故答案为B
  以上就是2020年高三原创押题卷(二)·英语答案 的部分试卷内容,需要核对本张试卷答案请点击"立即查看"更多答案请微信公众号搜索"答案易对网"
如果遇到其他问题,请添加售后服务
QQ群:993749835