金太阳大联考 2019~2020年度高考适应性测试(20-04-328C)英语答案
发布日期:2020-07-01
上传者:AD0***8F
投诉
  金太阳大联考 2019~2020年度高考适应性测试(20-04-328C)英语答案
  需要核对本张试卷答案请点击页面底部"立即查看"
  更多金太阳联考试卷答案核对请微信公众号搜索"答案易对网"关注!
  金太阳大联考 2019~2020年度高考适应性测试(20-04-328C)英语答案 的资源验证如下: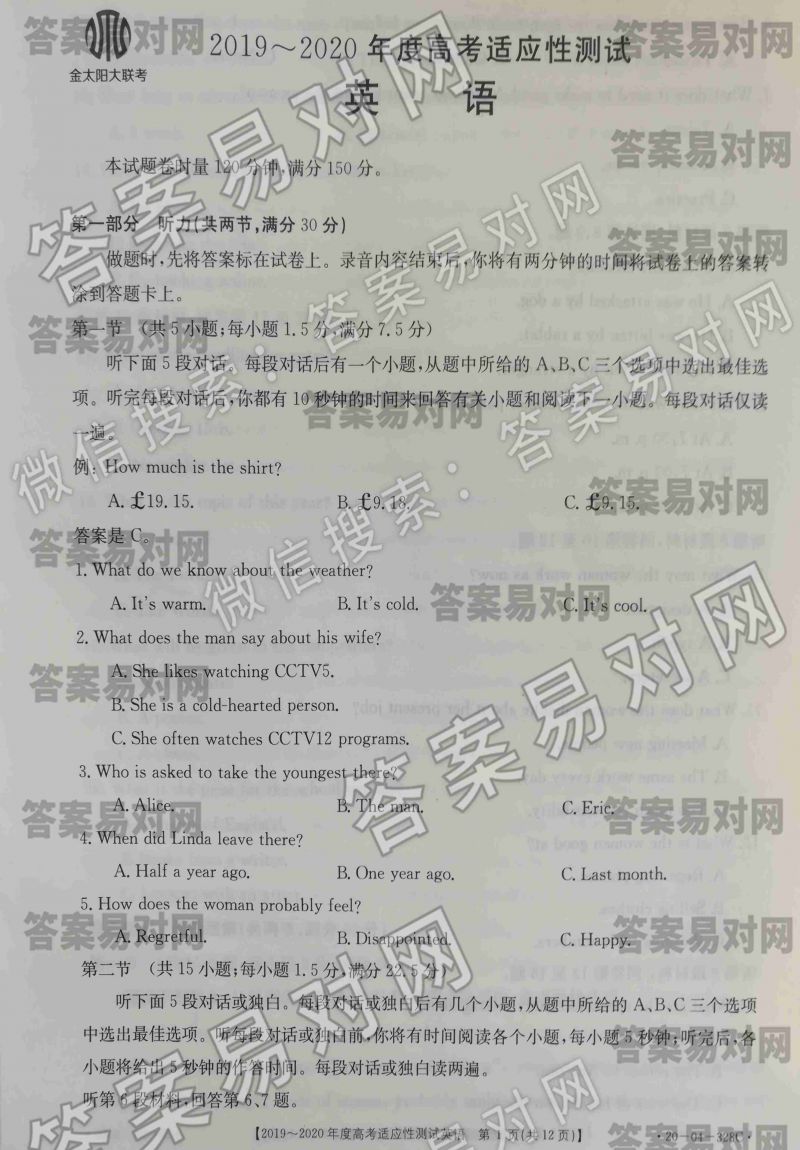 If you hear the word "castle"or the word "palace, you may picture the same kind of building for both:large, made of stones, probably with tower. And, of course, you're not entirely wrong, as those are features of both palaces and eastles.
  So then why bother to visit one royal building in the United Kingdom Buckingham Palace and another in the same country Windsor Castle? It turns out there is a difference, and you can find it pretty plainly in these two popular buildings.
  The Case for Castles
  Castles were residences for royalty. But they were also intended as defensive seats. Soy you're a king who has taken a particular area over. Now you have to hold it. So you build a castle and staff it with soldiers to defend your conquered territory and ensure it remains part of your kingdom.
  Castles were built throughout Europe and the Middle East primarily for protection of the king and his people. Some common features of castles include:
  thick walls and heavy gates to keep invaders out
  protective low walls for archers to shoot with cover
  high towers for keeping a lookout over the surrounding lands
  gatehouses for admitting allies instead of allowing enemies into the castle
  The Place for Palaces
  Palaces, on the contrary, had no defensive purposes They were first meant for showing off the great victory of the war. Palaces were where the spoils of war might be dis-played, along with grand architecture, massive banquet halls, golden table settings and maybe even hundreds of luxuriously decorated rooms
  While kings certainly took up residence in palaces as well as castles, nonmilitary royals might also have lived in (or still live in) palaces. Ministers could live in castles to show the power of their riches rather than their nonexistent military power. The term comes from Pala-tine Hill in Rome.
  21. Which of the following is one feature of castles?
  A. Low towers surrounding castles.
  B. Defensive low walls for shooting.
  C. Gatehouses allowing enemies into the castle.
  D. Thick walls and heavy gates to lock invaders in.
  答案:
  21~23 BBD
  A篇:本文是一篇说明文,主要对城堡和宫殿进行比较。
  21.B【解析】细节理解题。根据 The Case for Castles部分中的protective low walls for archers to shoot with cover"可知,城堡的特征之一是为战斗而建的防御矮墙,其可为弓箭手射击提供掩护
  22.B【解析】细节理解题。根据 The Place for Palaces部分中的"They were first meant for showing off th great victory of the war. Palaces were where the spoils(战利品) of war might be displayed.."可知,最初建宫殿的目的是炫耀在战争中取得的伟大胜利。
  23.D【解析】推理判断题。根据全文可知,这篇文章主对城堡和宫殿进行比较
  以上就是金太阳大联考 2019~2020年度高考适应性测试(20-04-328C)英语答案 的部分试卷内容,需要核对本张试卷答案请点击"立即查看"更多答案请微信公众号搜索"答案易对网"
如果遇到其他问题,请添加售后服务
QQ群:993749835