2020年高三考前冲刺卷(十)英语答案(不含听力)
发布日期:2020-07-01
上传者:071***3D
投诉
  2020年高三考前冲刺卷(十)英语答案(不含听力)
  需要核对本张试卷答案请点击页面底部"立即查看"
  更多试卷易对试卷答案核对请微信公众号搜索"答案易对网"关注!
  2020年高三考前冲刺卷(十)英语答案(不含听力) 的资源验证如下: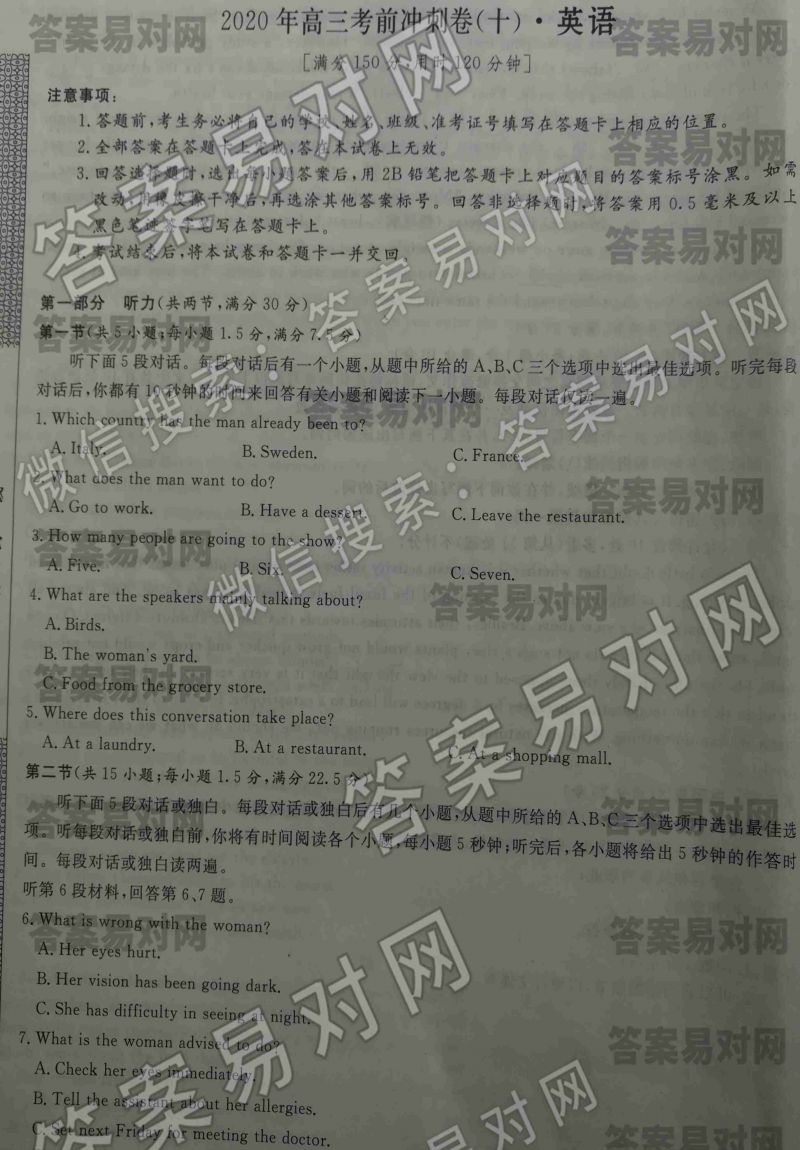 While small may be beautiful, tall is just plain uncomfortable it seems, particularly when it comes to staying in hatels and eating in restaurants.
  The Tall Persons Club Great Britain (TPCGB)。 which was formed six months ago to campaign for the needs of the tall, has turned its attention to hotels and restaurants. Beds that are too small, shower heads that are too low, and restaurant tables with hardly any leg-room all make life difficult for those of above average height, it says.
  But it is not just the extra-tall whose needs are not being met. The average height of the population has been increasing yet the standard size of heds, doorways, and chairs has remained unchanged.
  "The berding industry says a bed should he six inches larger than the person using it, so even a king-size bed at 6'6"(6 feet and 6 inches) is falling short for 25% of men, while the standard 6'3"bed caters for less than half of the male population. "Said TPCGB president Phil Heinricy "seven-foot beds would work fine."
  Similarly, restaurant tables can cause no end of problems. Small tables, which mean the long-legged have to sit a foot or so away from them, are enough to make tall customers go elsewhere,
  Some have already taken note, however At Queens Moat Houses' Caledoman Hotel in Edinburgh,6'6* beds are now put in as standard after requests for longer beds from taller visitors, particularly Ameri-cans.
  24. What is the purpose of the TPCGB campaign?
  A. To provide hetter services.
  B. To rebuild hotels and restaurants.
  C. To draw public attention to the needs of the tall.
  D. To attract more people to become its members.
  答案:
  语篇解读:本文是一篇记叙文,讲述了一个英国的高个子组织 TPCGB在六个月以前向宾馆和酒店发起的针对高个子的一些特殊需求的活动。
  24.选C细节理解题。根据第二段中的"which was formed six months ago to campaign for the needs of the tall, has turned its attention to hotels and restau-rants"可知, TPCGB是为了让公众注意高个子的一些特殊需求。故选C TPCGB president Phil Heinricy,
  25.选B细节理解题。根据倒数第三段中的"Said seven-foot beds would work fine."可知,七英尺的床就够了。故选B
  26.选A推理判断题。根据倒数第二段可知,如果饭店使用小的桌子,自然就失去了高个子这样一类群体的顾客。故选A。
  以上就是2020年高三考前冲刺卷(十)英语答案(不含听力) 的部分试卷内容,需要核对本张试卷答案请点击"立即查看"更多答案请微信公众号搜索"答案易对网"
如果遇到其他问题,请添加售后服务
QQ群:993749835