2020年高考考前精准预测卷(一)英语答案
发布日期:2020-07-01
上传者:C8D***78
投诉
  2020年高考考前精准预测卷(一)英语答案
  需要核对本张试卷答案请点击页面底部"立即查看"
  更多联考易对核对请微信公众号搜索"答案易对网"关注!
  2020年高考考前精准预测卷(一)英语答案 的资源验证如下: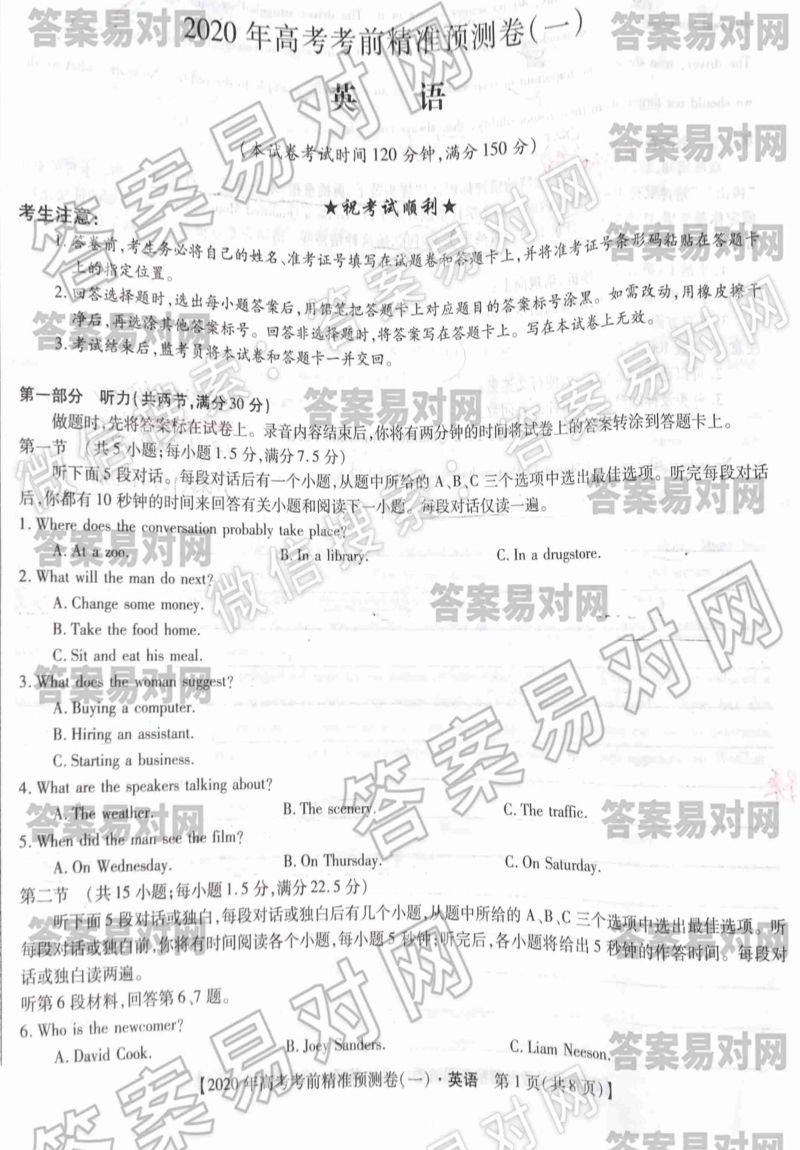 We're looking for someone with the passion to direct Bristol Student Union's Business Development, Marketing and Communications activities to ensure maximum impact on students now and in the future.
  Bristol Student Union:Bristol Student Union is a seriously fun place to work Our professional staff do somethin g extraordinary every day:we support ftudent leaders give people a voic in their education, help people get the most out f heir tudent xperience and help people make he hangy hey want n he world We have over25,000 members,350clubs and societies, a range of professional services, and a bold strategy to inspire pride in the UnioR.
  Who are you?
  -You will have experience of( leading Marketing and Communications functions engage diverse audiences.
  -You'll have significant experience o( Meading strategic improvement) cultural change and large projects to successful outcomes.
  -You'll have a successful track record of achieving results in a leadership role including leading managers and diverse teams.
  -You will be a strong leader with well-develo leadership skills and emotional intelligence.
  We're devoted to equality of opportunity for all, welcoming applications from individuals regardless of their race, religion, age, gender, or status. We want to support diverse and inclusive work environments and are actively looking for people who share our values.
  The date for application:from 10th September to 29th September
  Please visit our website to apply and find out more. For enquiries, please contact us at bristolsu-people@ bristol. ac. uk
  21. What do we know about Bristol Student Union?
  A It inspires students to be proud
  B. It offers awards for being a member
  C. It makes students become better.
  D. It requires their staff to give students a voice.
  答案:
  本文是一篇应用文。有关 Bristol Student Union招募员工所需要的条件。
  21.C 细节理解题。 help从第三段 people get the most out of their student experience and help people make the change they want in the world."可知, Bristol Student Union能让学生变得更好。所以答案为C
  22.B 细节理解题。根据"You'l have successful track record of achieving results in leadership role including leading managers and diverse teams."可知,申请工作的人需具备"成功的领导才干"。所以答案为B。
  23.C 细节理解题。根据"The date for application:fr10 10th September to2 9th September"可知,9月28号是可以申请的。所以答案为C。
以上就是2020年高考考前精准预测卷(一)英语答案 的部分试卷内容,需要核对本张试卷答案请点击"立即查看"更多答案请微信公众号搜索"答案易对网"
如果遇到其他问题,请添加售后服务
QQ群:993749835