百校联盟 2020高考复习全程精练·模拟卷全国Ⅰ卷(四)英语答案
发布日期:2020-07-04
上传者:I33***50
投诉
  百校联盟 2020高考复习全程精练·模拟卷全国Ⅰ卷(四)英语答案
  需要核对本张试卷答案请点击页面底部"立即查看"
  更多试卷易对试卷答案核对请微信公众号搜索"答案易对网"关注!
  百校联盟 2020高考复习全程精练·模拟卷全国Ⅰ卷(四)英语答案 的资源验证如下: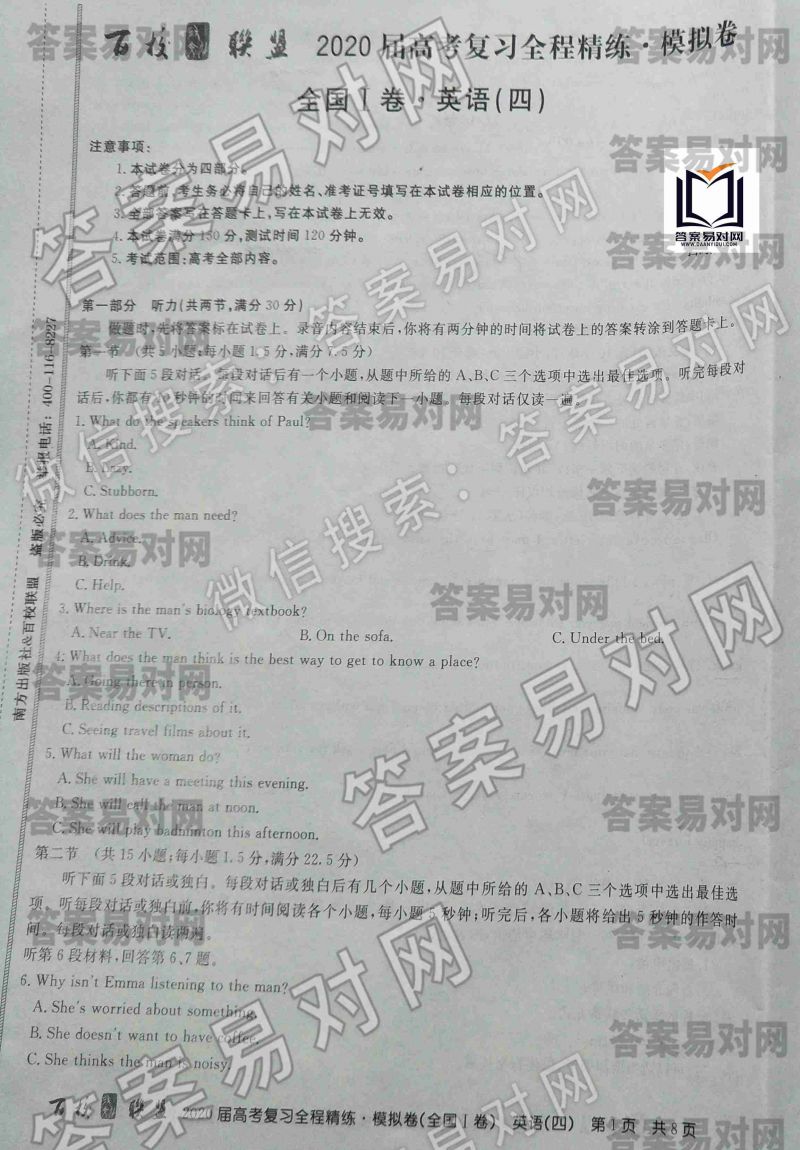 The Vitality Big Half Marathon gets underway this morning. It was first launched last year and saw 11,000 take part, with the aim of bringing Londoners together and celebrating the diversity of the capital, A festi-val is being held throughout the day at the finish line with music food and other activities throughout the day.
  The strong winds his morning unfortunat mean hat he cheduled musc erformances rom ocal talents has had to be cancelled as it's impossible to build the temporary stage structures for the festival. The food will still be available and the event will include cooking classes from Master Chef Steve Kielty, and there vill also be running challenges, trampolinin meditation classes craft making and gardening advice.
  When the half marathon starts:
  The Vitality Big Half Marathon will start from 9 am by Tower Bridge, as well as The New Balance Big Relas.
  The 2, 4-mile Little Half will start at 12:45 from Southwark Park, while the Vitality Big Mile will start at Greenwich park from 12:30.
  Greenwich Park will also be where the Vitality Big Festival is held between 9 am and 4 pm today.
  What is the route:
  The Big Half Marathon will be starting at Tower Bridge and runners will then follow a 13. I-mile route that will take them past Shadwell and Limehouse. before cireling around Canary Wharf.
  Half marathon runners will then follow up the Thames back towards Wapping and then going over Tower Bridge and heading towards Southwark Park
  The route continues along the south side of the Thames and circling around Rotherhithe before joining up the The Little Half runners and travelling through Deptford towards the finish line at Cutty Sark,
  How to watch the runners:
  You can go to various points along the route to watch the runners in person, watch it at home on your TV or by watching online.
  21. What is the purpose of the Vitality Big Half Marathon?
  A. To list some dos and don'ts of a great event in London.
  B. To gather the locals together and praise the city's diversity.
  C. To encourage people to do sports and outdoor activities.
  D. To introduce different ways to celebrate a treditional festival.
  答案:
  【篇章导读】本文是一篇应用文,主要介绍在伦敦举行的活力半程马拉松以及一个相关的庆典的情况。
  21.B【解析】考查细节理解题。根据第一段的with the aim of bringing Londuners together and celebrating the diversity of the capital可知这与B项要表达的内容一致。
  22.A【解析】考查细节理解题。根据第二段的that the scheduled music performances from local talent has had to be cancelled as it's impussible to build the tempurary stage structures for the festival.可知该活动没有按计划进行。
  23.D【解析】考查细节理解题。根据 What is the route中的最后一句 joining up the The Little Half runners and travelling through Deptford towards the finish line at Cutty Sark.可知他们会合后共同前往 Deptlord
  以上就是百校联盟 2020高考复习全程精练·模拟卷全国Ⅰ卷(四)英语答案 的部分试卷内容,需要核对本张试卷答案请点击"立即查看"更多答案请微信公众号搜索"答案易对网"
如果遇到其他问题,请添加售后服务
QQ群:993749835